9 Amazing Facts You Probably Didn't Know About Botswana
Posted on July 14, 2018, featured in Press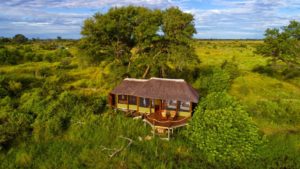 There is a good chance that you have heard a little bit about Botswana recently. It's also quite possible that you have heard a lot about Botswana recently. Why?
Well there are a few reasons, but the one that seems to have caught the most attention is related to the new Duke and Duchess of Sussex, Prince Harry and Meghan Markle. When the prince convinced Markle to join him on safari, it was to Botswana that he brought her, and what followed was a romance that culminated this past May in their royal wedding.
But what do you really know about Botswana? What makes it such a fascinating destination that appeals not only to everyday people, but royalty as well?
---
Here are some remarkable things that you never knew about Botswana
Protected Land
 Botswana enjoys an abundance of wildlife, and it is by no accident; compared to most other countries, Botswana has one of the higher ranks in terms of how much area is devoted to national parks, reserves, and wildlife management areas. In fact, 45% of the country has been put aside for protection, and that has had a significant effect on wildlife.
The World's Greatest Elephant Population
 One result of Botswana's efforts to protect the environment is that they have the greatest population of elephants on earth.
Elephants have suffered greatly over the years, with poachers threatening to drive them to extinction. Botswana's efforts have managed to keep populations stable, with the largest concentration being found in Chobe National park.
Big Cats
Chobe National Park has more than elephants, however. There are also numerous big cats. In fact, here you will find one of the healthiest big cat populations in Africa, with lions, leopards and cheetahs waiting to be discovered by you. The large numbers of big cats make this one of the best safari destinations you will find, and it's all due to the country's conservation policies.
Rhinos, Too!
When people think of African Safaris, they often think of lions and elephants, but let's not forget the rhinos!
The rhino is hunted for its horn, and like the elephant, has had to deal with the threat of poachers for far too long.
The Khama Rhino Sanctuary can be found in the east of the country and provides a refuge to black and white rhinos that are closely monitored and protected. Conservationists here are doing what they can to boost the number of Rhinos in Botswana to help these magnificent beasts recover.
The Okavango Delta
 Although Botswana boasts incredible wildlife, there is more to it than that! There is also the Okavango Delta, one of the Seven Natural Wonders of Africa. The Delta spreads across 15,000 square kilometres and is the largest inland delta in the world. It provides a vital habitat to the black rhino, spotted hyena, Nile crocodile and more. It was the 1000th inscribed site on the World Heritage list of UNESCO.
Desert Art
The Okavango is not the only recipient of World Heritage status. It has also been given to Tsodilo, which is home to one of the highest concentrations of rock art in the world, with roughly 4,500 paintings dating as far back as 100,000 years!
The Makgadikgadi Pan
The Makgadikgadi Pan is one of the largest salt flats in the world and is all that remains of the Makgadikgadi Lake, which at one time covered an area as large as Switzerland!
Covering an area of 12,000 square kilometres, the pan can be traversed by tourists on horseback and quad bikes during the day, while night brings migrating zebra and wildebeest.
Very hot and dry, when there is enough rain, the pan can turn into a blue lake that attracts numerous animals, including flamingos.
You Can Take a Cruise!
 Despite being landlocked, you can still take a cruise along the Chobe River. This waterway– one of Africa's richest– boasts large number of wildlife. See elephants, hippos, even buffalo, as you make your way down the river.
One of the Freest Countries in Africa
According to Freedom House– an organization that conducts research and advocacy on democracy, political freedom, and human rights– Botswana is one of only eight countries in Africa that can be described at truly free. The others are Senegal, Ghana, Tunisia, Cape Verde, Namibia, and South Africa.
As you can see, Botswana has a lot to offer tourists. It has been nominated by Lonely Planet as a top travel destination. On your visit, you will not be surrounded by hundreds of other tourists and will be able to enjoy a feeling of exclusivity. You will also be happy to know that English is taught at schools and is widely spoken in all urban centres. Even rural areas often have local villagers who speak English.
If you are looking for a beautiful, unique travel destination, Botswana should definitely be at the top of your list!
Thinking about visiting Botswana, contact Sikeleli today!