Nairobi, beautiful lodges to escape the hustle
Nairobi has always fascinated me. I've said for years that this city is like the New York of Africa. An influential and commercial hub, home to major international companies and NGOs. It's filled with fabulous fashion, progressive people, and modern ideas. At the same time, one can hide from the hustle and bustle in the city's oldest suburb, Karen, in a gorgeous Cape Dutch-style house that is over 80 years old – and be immersed in jungle and birdlife. The diversity of this city never ceases to amaze me and it's the entry to the rest of this wildlife-rich country.
Places we love to stay en route to safaris:
Karen Gables
Hemingways
Eden

The Masai Mara – the pinnacle of a Kenyan Trip
The word 'Masai' comes from the Maasai tribe, truly beautiful people, and the nomadic inhabitants of Kenya and Tanzania. 'Mara' translates to 'spotted', referring to the signature East African flat-topped acacia trees that dot the land.
A short hop from Nairobi Airport, and we are in south-west Kenya where the famous Mara National Reserve is located. The park is a breath-taking expanse of rolling African savannah as far as the eye can see. At 1 510km2, it is enormous and located on the border of the famous Serengeti National Park in Tanzania. It's quite literally a haven for an abundance of wild animals and birds.
The spectacular diversity of wildlife is what keeps us coming back on Kenyan Safaris. I love that there are always incredible numbers of animals, lion, buffalo, cheetah, elephant, rhino, giraffe, wildebeest, and zebra just roaming around in their natural habitat – free and wild and unrestricted. It would be remiss of me not to mention the Great Migration where more than 1 million wildebeest and 200,000 zebras make their 1 800-mile round journey. It starts in around July when the animals arrive in the Masai Mara National Reserve from the Serengeti.
Places we love in the Mara:
Alex Walker Ngare and Original Serian
Richard's Camp (Fab for FAMILIES!)
Singita River Tented Camp
Little Governors Camp
Elephant Pepper Camp
Cottars 1920's Camp
Sala's Camp
Kichwa Tembo Camp
Laikipia Camp: A conservation success story, and home of 'I dreamed of Africa'
Right on the equator, in the shadow of Mount Kenya, Laikipia's vast open plains are dramatically scenic and hugely under-appreciated. Dotted with acacia bushland and gorgeous, wooded thickets tangled in flora and fauna it creates a tranquil and secluded setting.
This park was made famous by the poetic Kuki Gallman who wrote one of my favorite books I dreamed of Africa, about her life in this extraordinary part of Kenya. Lesser known to the world (as it's a hidden gem!) and because it's all private land here, I felt so much more like I was in someone's home than in a safari lodge – that made all the difference.
Laikipia has so much wonderful wildlife… It has huge populations of predators, thousands of elephants, and, of course, the Big Five. You can see many endangered species, we saw white and black rhinos galore, superb Grevy Zebras, and an ever-increasing population of wild dogs. Rhinos are a huge feature here, it's a rare privilege to see so many, black and white rhinos, and with so few other vehicles around.
The Lewa Wildlife Conservancy offers up the best game drives I have ever done, and that is saying something! The Laikipia Wildlife Forum was founded in this area to create an enormous wildlife stronghold among the conservancies and neighboring farms. It has been a huge success. We are delighted to promote this special and protected area to the world.
This area is particularly fond of families, children are welcomed! There were kids at a lot of the lodges I stayed at. Of course, there are also adults-only options. I did some incredible horseback riding here too, a super place to experience a close encounter with a gentle giraffe. You know, I do love a giraffe!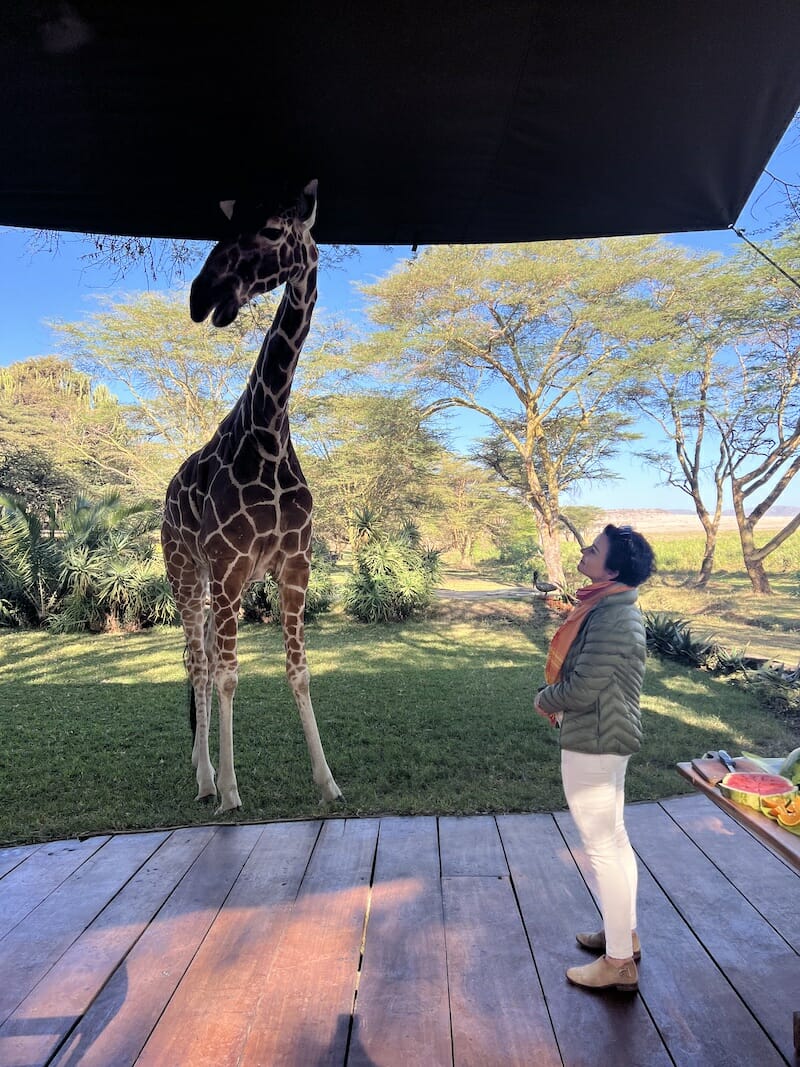 Land, boat and walking safaris in Nyerere Game Reserve (formerly Selous)
Tanzania's largest National Park (formerly known as Selous National Park) is home to diverse wildlife experiences and is nicely away from the 'normal' tourist circuit. The Rufiji River meanders through the middle of this stunning area. This is one of the best places to encounter countless hippos, crocodiles, and birdlife, up-close on a boating safari. It's great that you get a lot of game-viewing diversity here: boat, land, and walking. I love it when a trip packs in all sorts of experiences! The land-based game drives, water safaris, and walking safaris give this area great value in a truly remote wilderness area.
The Nyerere (Selous) Park is huge – 54,600km² – with a history dating way back to 1896. It's a UNESCO world heritage site incorporating great herds of elephant, buffalo, and wild dogs. Some of the rarer species include the roan antelope, brindled gnu, Lichtenstein hartebeest, and sable antelopes and kudu. Of course, we also saw so many lions, hyenas, and leopards – and 440 species of birds!
The Kenyan Coast
I have stayed on this Kenyan Coast many times over the years, ever since I was a little girl, and it always conjures up great memories of my childhood. There are a few special places to mention that will make the perfect bush–beach end to a safari, on tranquil, unsullied beautiful beaches with great food, and accommodation ranging from rustic to very high-end.
Watamu Beach and an ancient ruined city
This resort town is just north of Mombasa. It has scenic, interesting, sandy coastal lines, and fascinating rock formations with excellent diving and snorkeling. Nearby are the ruins of the Gedi, an ancient walled town with mosques, a palace, and houses all made from stone – it's well worth exploring.
Pristine beaches and calm seas at Malindi
Only 30 mins from Watumu, this sweet, pretty little spot has some great hotels, catering for all needs. Most of these are located around Vasco da Gama Point where the beaches are squeaky clean and superbly pristine, and the sea is calm and clear.
Paradise found: Lamu
This is one of the most exotic places I have ever visited. The Lamu archipelago includes a series of unique and alluring islands; with Lamu being the main one. Life here is relaxed and holistic. The influences of ancient Arabs, Italians, and African cultures and traditions show in the architecture and the hospitality. Super remote and rustic, there are no cars or roads, it's an authentic experience and tranquil escape from the madding crowd. This place is paradise!
Diani Beach palms trees and good food
Arguably the best beach in Kenya, palm-lined Diani Beach has a superb coral reef, glass-bottomed boats, and a super mix of stays from authentic rustic and barefoot luxury to super glam villas, and home stays. Diani has many restaurants and bars and amazing food on offer at all places.
Galu and Kinondo just south of Diani Beach are totally worth a visit.
These are such great places, but don't take it from me – see what our guests say…
Thank you on behalf of our entire family for organizing what was truly a dream trip to Africa. As you know, it was a first for all of us and we will cherish our memories forever. I totally understand why Africa steals people's hearts and know we'll be back one way or another. Your thoughtfulness in every detail was much appreciated when we arrived and there was always someone handling us and making sure everything happened according to plan and our wishes. With young kids, I think this really helped us get the most out of our trip and allowed Mori and I to relax a lot more than if we had been trying to navigate transfers and tours on our own. The places we stayed were all wonderful and the service exceeded all expectations. Our family felt genuinely welcome and cared for by all the staff at each stop.
We want to particularly recognize our tour guide
His knowledge, kindness, energy, work ethic and follow-up were unbelievable. Upon request (because we were feeling less jet-lagged than expected), James arranged a few memorable last-minute excursions including one to Kibera (led by a resident) and Kazuri Beads, which we visited when the beadmakers broke out in song at 3 pm.
Samson, our safari tour guide at Mara Intrepids was also outstanding. My kids were hugging him after the first tour (and they don't spontaneously hug anyone!). And he worked incredibly hard to maximize each and every moment of each and every drive. Words can't capture what it meant to see the Masai Mara and its wildlife. It was simply magical. There's nothing to prepare you for the scale and concentration of the wildlife and the spectacular beauty of the land, and we live in a place that's known for its natural beauty as well! The staff became like family and were so kind. Our trip to the Masai Village and school were very moving and insightful into both the community's challenges and inspiring progress. there were also a few times when we also felt totally humbled by the strength and resilience of some of the people we met, who live in vastly different circumstances than ours. This was the case both in the Masai village and school, in Kibera and in Zanzibar.
Again, we were blown away by the genuine warmth, energy and kindness of the Kenyan and Tanzanian people. It's unlike anywhere I've been to in the world on this front.
Thank you again for arranging 11 heavenly days in Africa. It exceeded all expectations, and I cannot wait to return one day. I will be highly recommending you to the many friends who now want to go to Africa.
Ali and Family – who travelled to Kenya
Ready for us to plan your dream trip to Kenya?
To see more awesome snaps from beautiful destinations – follow us on social 🙂