Female Safari Guides Paving the Way to Gender Equality
Posted on April 14, 2017, featured in Press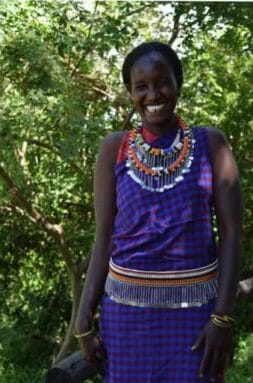 Breathtaking wildlife, stunning landscapes, and captivating cultures are all key ingredients to an amazing African safari. But for a truly extraordinary experience that will stay with you forever, a great guide makes all the difference. Gladys Letuolo is just such a guide that our very own Daniella had the humbling fortune to meet.
Much like the welcoming, life-giving rains in the middle of the hot, dry season, female safari guides are hard to come by. While it's true that this job title is usually reserved for men, the winds of change are gradually reaching the plains of Africa, bringing with them new opportunities for women.
And sure, the notion of a female safari guide might not be the norm right now—but that's all about to change. Trailblazers like Gladys Letuolo are tuning heads and redefining the definition of what it means to be a guide in Africa.
Meet Gladys Letuolo
Gladys is one of three Maasai Mara female guides that work at Alex Walker's Serian— a collection of intimate safari camps located in the wildernesses of Kenya and Tanzania.
She has been working as a guide for just over four years, and she fully embraces how her job—and the tourism industry as a whole—is helping to support the Maasai community and champion female empowerment.
How women like Gladys are breaking down barriers 
Gladys doesn't take her job title lightly. She understands all too well the importance of being one of the very few female guides, and what it means for gender equality.
"The main reason why I wanted to be a female guide in the Maasai Mara is because I think it's good to have gender equality in every department. So if you go to guiding, you need to have ladies; if you go to another department –like chefs or any other- it is also good to have ladies. We need gender equality in our community – we don't want to be left behind!"
Gender equality is not the only reason she wanted to become a guide. Conservation of animals and the environment is another main driving force behind her passion for this job.
"As a guide, I am happy to conserve the animals and the environment. Even if I shift department further down the years, I shall help to conserve the environment as it has helped me get to where I am these days."
Attention to detail, a thirst for adventure, and great people skills—these are the qualities of an exceptional safari guide, the qualities that make a great vacation even better, and the qualities that an increasing number of women are getting the chance to share with their guests.
Thanks to Gladys, and amazing people like her, gender equality barriers will continue to be knocked down, giving new hope to woman all over the world.
Here at Sikeleli Africa Safari, we take the empowerment of women very seriously. And while we recognize that there's still a long way to go, our hearts are warmed by the strides South Africa continues to make in promoting gender equality.