Leon Varley Walking Safaris – Black Rhino Tracking
Posted on February 28, 2017, featured in Press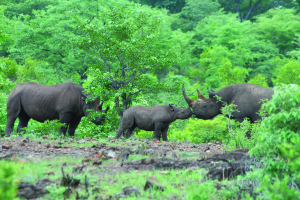 An Africa safari is one of the most sought-after dream destinations anyone could possibly imagine—but hey, you're not just anyone. Sure you love the idea of game drives, but you're the kind of person who lives for the ultimate sensory experiences, the kind of person who wants to be more than a casual observer, the kind of person who craves an adventure that goes beyond the confines of a vehicle. Want to get a real feel for Africa the way it was meant to be? Ditch the 4 x 4 and take a walk on the wild side, tracking the second largest animal on Earth—the rhino.
A Walking Safari Like No Other
For bush detectives and adrenaline junkies alike, nothing can quite prepare you for the thrill of tracking a black rhino. Only on foot can you get closer and more intimate with one of the world's most beloved creatures then you could have ever dreamed possible. Just imagine it. Your heart is pounding. Your pulse is racing. You can actually feel the excitement and curiosity rise in your chest as you approach a rhino for the first time—it doesn't get more electrifying than this.
Knowledgeable and Experienced Guides 
Tracking a rhino on foot is a thrill-of-a-lifetime adventure that would leave any adventure-seeker drooling with anticipation. So, of course you don't want to put this adrenaline-jacking outing in the hands of just anyone. You need a guide who has first-hand knowledge and experience of the landscape and wildlife, as well as provide and you with an authentic learning experience in the ways of the wild. Having the right tracker leading the way will catapult your walking safari to the next level.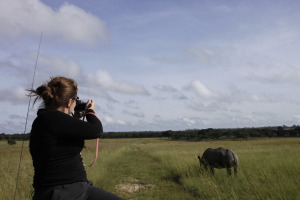 The key to the ultimate black rhino tracking adventure comes down to one thing—your guide. Leon Varley is a legendary bush leader, providing exhilarating walking safaris for over 35 years. He has not only lead guided tours throughout all the major National Parks in Zimbabwe, but also offered walking safaris across sub-Sahara Africa.
Safety Is Paramount 
Of course you want to experience an adrenaline-fueled wildlife encounter, but not at the risk of being in danger or getting lost. When it comes to safety, Leon and his highly trained support team don't mess around. They will lead you through some of Zimbabwe's wild and breathtaking landscapes, getting you up close and personal to the iconic black rhino, safely.
If the thought of tracking one of the most iconic animals on the face of the planet with one of the most experienced guides in Africa already has you packing, we don't blame you. Just don't forget to bring your favourite pair of walking shoes, your best camera, and your sense of adventure—Leon and his fellow guides will take care of the rest.
To find out more about Leon Varley Walking Safaris and to arrange your tailor-made vacation, contact us today