Sikeleli Receives Donation Certificate from One Girl Can
Posted on June 4, 2018, featured in Awards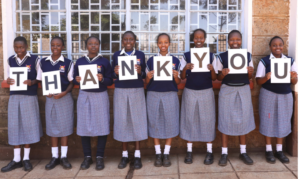 In case you didn't already know, Sikeleli is a proud sponsor of One Girl Can, a truly wonderful organization, empowering girls through education in sub-Saharan Africa.
They have provided over 400 scholarships, developed nine school partnerships, and have reached thousands of girls with their mentoring workshops.
Just recently, we were honoured to be acknowledge by One Girl Can for donating a10-day African safari to their 'I Want To Be' event that took place April 12th, 2018.
Our contribution to this worthy cause has helped raise $350,000 that will go toward educating girls in Kenya and Uganda.
Here at Sikeleli, we are proud to be involved with organizations like One Girl Can—organizations that help create pathways for girls and young women to overcome barriers, and organizations that empower girls to be the voice of change and become leaders in the community.
For information on how you can get involved and make a difference, contact us or visit One Girl Can.