VIVA Foundation for Children with Cancer
Posted on December 9, 2016, featured in Press
Sikeleli Supporting VIVA Foundation for Children with Cancer and the Sarah-Grace Sarcoma Foundation (Kick Sarcoma)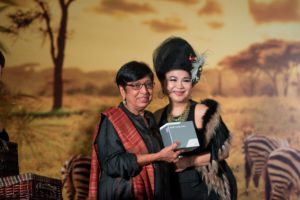 On Saturday October 22nd, 2016, an African themed gala event was held at the Fullerton Ballroom, Singapore. This event combined fundraising by VIVA Foundation for Children with Cancer and the Sarah-Grace Sarcoma Foundation (Kick Sarcoma). Sikeleli Africa Safaris Limited donated the main themed auction experience, a bespoke safari (valued at approximately $10,000 USD) to complete this fundraising event.
This luxurious safari for two was successfully bid for and won by Dr. Kanjwali Soin, a highly esteemed campaigner for the rights of women and aged persons, and a former Singaporean Woman of the Year. Dr. Soin's safari will take in some of the most amazing destinations in Africa including Hwange National Park Zimbabwe, Botswana's Okavango Delta and the famous Victoria falls.
Sikeleli Africa Safaris Limited is a family owned and operated inbound luxury travel agent with its international and North American headquarters located in Vancouver, British Columbia, Canada. Our African operational headquarters is in Victoria Falls, Zimbabwe. From here, Daniella Ponter and Meenal Patel run the operational aspects of the business, including management of our offices in Cape Town in South Africa and Arusha in Tanzania. As a highly regarded bespoke safari travel firm with a deserved reputation for excellence, Sikeleli combines long experience, deep expertise and incomparable local knowledge. We are able to arrange safari adventures from East Africa (Kenya/Tanzania/Uganda) through southern Africa (Zimbabwe/Zambia/Botswana/Mozambique) southward right through to Cape Town in South Africa.
---
If you would like more information about this topic, please contact Maddelena Ponter at 1-604-281-3274 or email at info@sikelelitravel.com. If you want a chat with Danni, her number in Vic Falls is (+263) 78 279 9697 or reach her by email at danni@sikelelitravel.com.