White-Water Rafting On the Mighty Zambezi River
Posted on February 17, 2017, featured in Press
Victoria Falls is an adrenalin junkie's paradise. Whether it is bungee jumping and kayaking or walking with lions and microlight flights, this one-of-a-kind destination has everything a thrill seeker could ask for and more. And for those of you who want a truly heart-pounding experience, nothing compares to white-water rafting on the Zambezi River. If you're planning on a trip to Victoria Falls, this is one adventure you don't want to miss.
The Zambezi River
The Zambezi River is the fourth largest river in Africa, traversing its way through a whopping six countries. It begins its journey in north-west Zambia and travels for 2700 km (1670 miles) until it reaches its destination at the Indian Ocean on the coast of Mozambique. The Zambezi River boasts several breathtaking waterfalls, but none equal in grandeur and awe-inspiring beauty to one of the greatest physical spectacles in Africa—the Victoria Falls.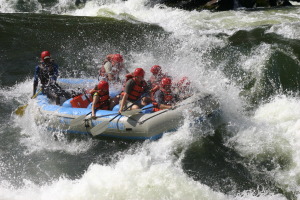 The Rapids
There are more than twenty rapids, with gnarly sounding names, like "Stairway to Heaven," "The Muncher," "Washing Machine," and "Oblivion." The rapids are divided into a class or difficulty rating between grades 3 and 5. There are grade 6 rapids as well, but they are considered almost impossible to raft.
Rafting is separated into high-water and low-water seasons. Low water is peak rafting season because the river is at its lowest levels between July and February. Because the water level drops, the reduced spray gives you great visibility of the falls. The high-water season, on the other hand, is when the falls are at their most powerful, largely obstructing the view due to the mass amounts of spray and mist.
How Far Is It? 
White-water rafting day trips will usually stretch about 24 km of the river. You will be in the raft for a majority of the time (unless you flip), but there are some stretches of water where you can swim. As long as the guide gives you the green light, jump out of the raft whenever you have the chance. There is nothing like feeling the rush of the river as it whooshes past you. After each rapid, there are calm stretches, perfect for catching your breath, drying off, and chatting with your fellow rafters. For a full day trip, expect to spend roughly six hours on the river.
Can Anyone Raft?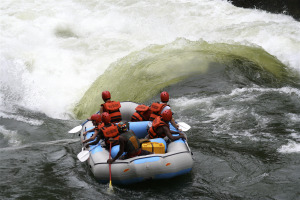 Never been white-water rafting before? No problem. As long as you are
over 15 years old, you can do it. You also don't have to be a great swimmer, but you should at least feel comfortable enough in the water in case you flip over. Plus, you will need to be in fairly good shape to climb in and out of the gorge.
Is Rafting Safe?
Thrashing down the Zambezi River in nothing more than a rubber raft is an adrenaline-fueled, mind-blowing ride you won't soon forget. But keep in mind, safety is always a number one priority. Your raft is not only lead by an experienced guide, but also supported by safety spotters in kayaks, ready to assist swimmers at a moment's notice. Also, make sure to bring a decent pair of shoes, sunscreen, and some clothes that you won't mind getting wet.
In the mood for a leisurely, relaxing boat trip where you can catch up on a little reading? Sorry my friend, this is not for you. If you want an untamed adventure, taking on the some of the most astounding rapids you'll find anywhere in the world, you've come to the right place. White-water rafting on the Zambezi River is guaranteed to please even the most adventurous daredevil.
For the ultimate Zambezi white-water rafting adventure, contact us today!