10 Ways to Say "I Love You"
If it's not said at sunset, in Africa, on horseback, is it even love? Unless, of course, adrenaline is what shakes you and your partner to the core. Either way, Africa offers a multitude of ways to experience romance like you never have before.
1. Hot Air Ballooning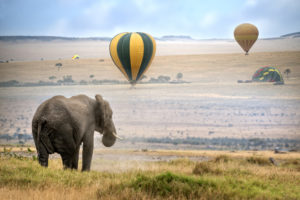 When most people think about taking a trip to Africa, they immediately think of safaris, and why not? Safaris offer you the opportunity to see the land and the animals up close in a way that you will likely never forget, but there is also something to be said for the bird's eye view.
Setting off in the early dawn, you will soar above some of the earth's most majestic landscapes. See the world from in a way that have never seen it before, floating high above, both detached and yet completely enveloped in its beauty all at once. You already feel like you're walking on clouds when you're with your loved one; now you will truly see what it's like.
---
2. Bungee Jumping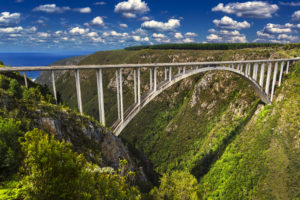 This may seem an odd choice for a romantic escape, but consider that bungee jumping is much like falling in love. Both will make your palms sweat, your heart race, and adrenaline surge through your veins. And both require you to take a leap of faith!
Bloukans Bridge is one of the highest commercial bungee jumps anywhere on earth, offering you a thrilling adventure that is as exciting and as unique as your love. This is something that no thrill-seeker should ever pass up!
---
3.  White Water Rafting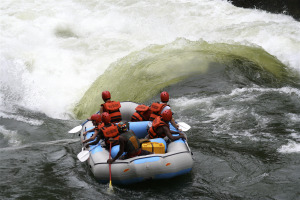 Another one for those seeking excitement, white-water rafting on the Zambezi river is a perfect analogy for your relationship. There will be calm moments of taking in the beauty of your surroundings, and thrilling moments where you ride the rapids. You will navigate them both together, the river carrying you along as one until you reach the far shore.
---
4. Horseback Riding

A unique way to see Africa, bringing you closer to the wildlife than would otherwise be possible. Go places that vehicles cannot access and see sights that would otherwise elude you. A visit to Africa is all about nature, and how better to experience it than by bonding with your mount on the ride of a lifetime?
---
5. Picnicking on the Plains

Picnicking with your loved one in the great outdoors is a classic romantic experience, but let's not forget that this is no quiet afternoon in the park. This is Africa! Put a unique spin on this old standby by picnicking with some special guests: powerful, majestic elephants.
Elephants are wonderful to behold even from a distance, but having them so close (while in complete safety) gives an even greater appreciation of their majesty, not to mention photo opportunities. And don't worry, you won't have to share your meal with them!
---
6. Watching the Sunset

You have seen the sun set before, but have you seen an African sunset?
Mankind may have seen its first sunrise in Africa, but the sunsets, too, are not to be missed. Whether you are sitting quietly together in your comfortable and welcoming accommodations, or out on a sunset cruise, the sights, sounds and colours of the African sunset will make all others pale by comparison. 
---
7. Gourmet Meals Under the Stars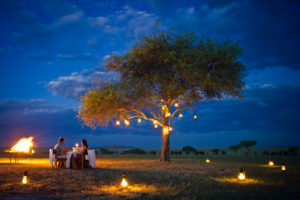 For many, vacations offer the chance to indulge in some of the finest foods, and a trip to Africa is no different. Enjoy some of the most delicious gourmet meals al fresco while sitting across from your love, staring into their eyes as a candle flickers between you and the stars twinkle above. Magic! 
---
8. Spa and Yoga

If white-water rafting and bungee jumping aren't your thing, then perhaps a thrill for the senses takes a backseat to rejuvenation of the body and mind. Whether you experience a yoga safari, or enjoy the retreat at Malabar Hall, here's your chance to discover more about one another while also discovering yourself.
And once you have re-balanced your mind and soul, it's time to pamper your body at any of the amazing spa facilities. These quiet moments can be blissful ones spent together.
---
9. Volunteering with the Rhinos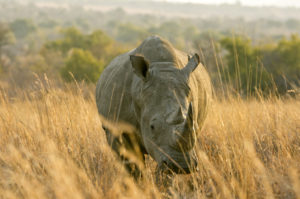 Get hands-on experience learning and volunteering with Imire's black rhino conservation and breeding program.  From hand-feeding young rhinos to learning how to track animals with anti-poaching patrollers, this promises to be a unique and etched- in- your- heart experience.  It's truly one of the best relationship bonding activities you can do!
---
10. Getting Married or Honeymooning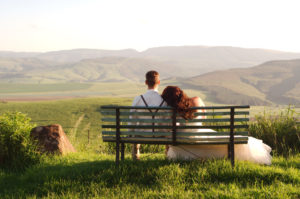 What is more romantic than a dream wedding, or fantasy honeymoon? Both are available here, and both provide you a unique, beautiful way to bind your hearts to one another. If life began in Africa, why not have your new life together begin here as well?
---
Africa is so much more than just safaris. There is a romantic side that is begging to be discovered. Why not discover it with your one and only!